How to Use the Image Gallery
The image gallery has numerous useful features and is easy to navigate. This page describes the function of the various menus and navigation aids.

Main Page
The main gallery page has the following navigation areas: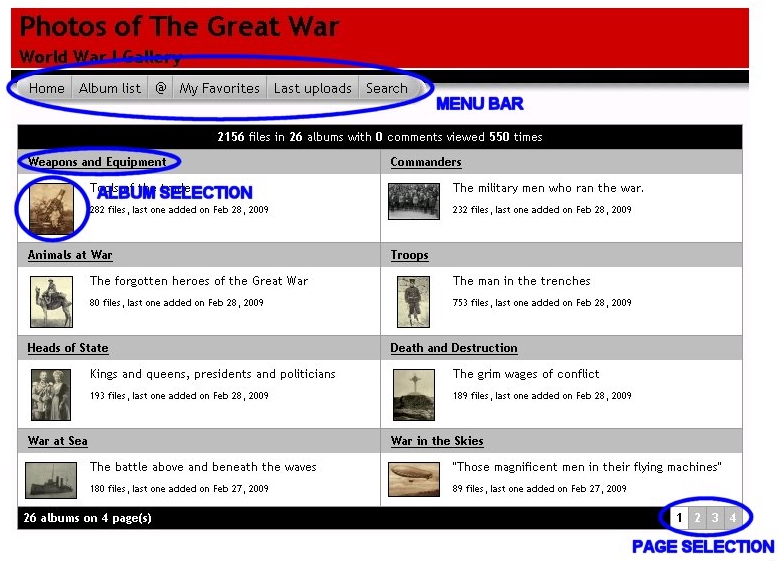 Menu Bar
The menu bar is visble throughout all sections of the gallery and has the following functions:
Home: Loads the site index page.
Album list: Loads the album list (as seen in the image above).
@: ADMINISTRATIVE USE ONLY.
My Favorites: Displays the current user's My Favorites area. You must accept a cookie from the site to use this function.
Last Uploads: Displays the files in order of upload, with the most recent first.
Search: Displays the Search Page.

Album Selection
Click the album description or the album thumbnail to open the associated album. (See below for album functions.)
Page Selection
Each page of the album list displays 8 album thumbnails. Click a page number to navigate to the associated page.
---
Albums
Each album page has the following interactive areas: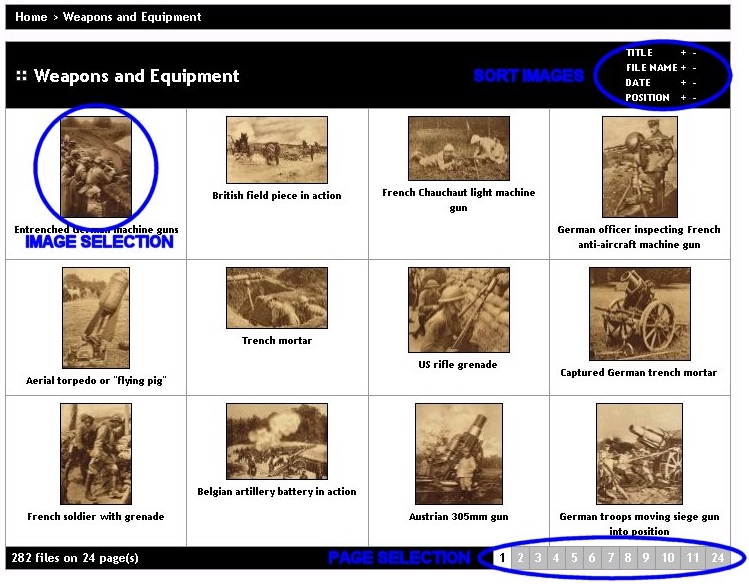 Sort Images
Image thumbnails within each album can be sorted using the following functions:
Title: Sorts images alphabetically by title or caption.
File Name: Sorts images alphabetically by file name.
Date: Sorts images by upload date.
Position: NOT USED.
Image Selection
Clicking an image thumbnail navigates to the page for that image. See below for image functions.
Page Selection
Each page of the album displays 24 image thumbnails. Click a page number to navigate to the associated page.
---
Images
Each image page has the following primary interactive areas:
Return to the thumbnail page
Hide/display file information: Toggles the file information pane.
Slideshow: Begins slideshow of all images in the album, starting with the current image.
Send image as e-card: Allows user to email the current image as an e-card. This option may not be available for some images.
Previous or next image: Navigates through the album in either direction.
Full-sized image: Clicking on the mid-sized thumbnail opens the full-sized image in a new window. Click the full-sized image to close it.
Clickable keywords: Quick search function displays all files with clicked keywords.
Save for review download: Saves the file to the user's Favorites, for later viewing or downloading.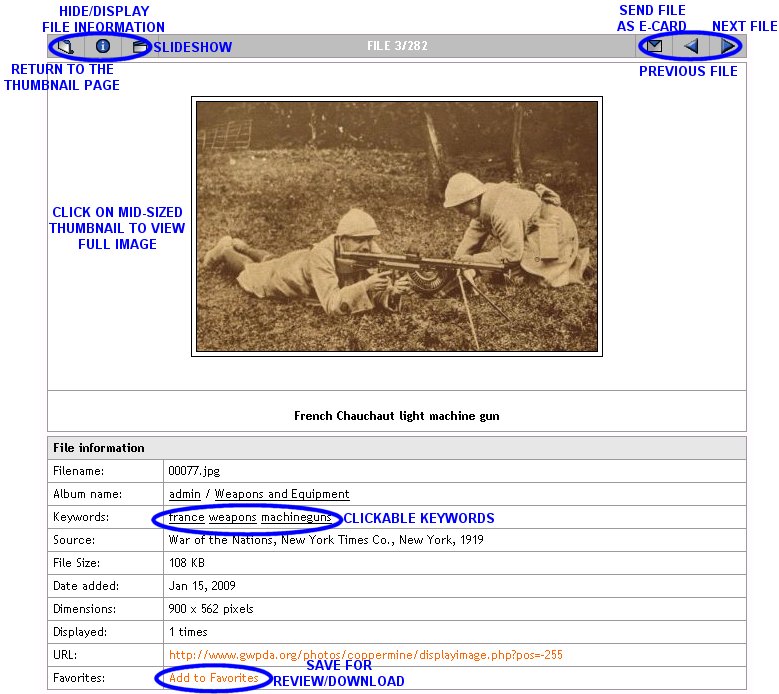 ---
Search
The Search function allows you to perform a keyword or full-text search of all images in the gallery. The Keyword list displays keywords associated with images in the gallery. These clickable keywords offer a quick search allternative.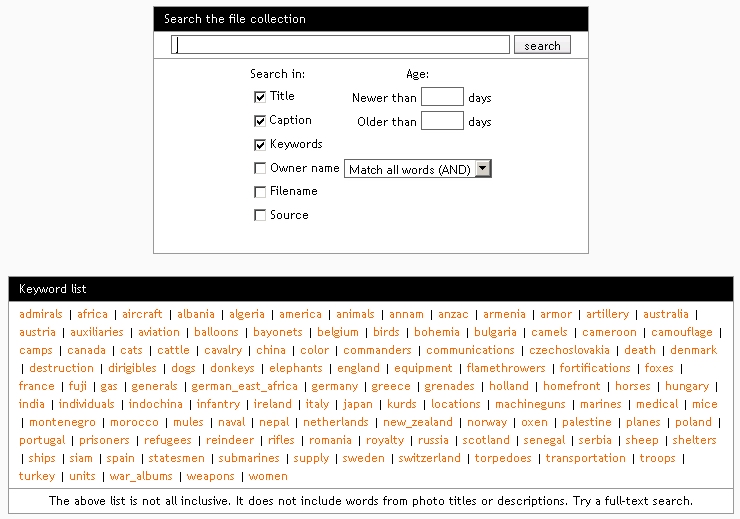 ---
My Favorites
This section allows you to save files from the gallery for later review and/or download. The Download as Zip file option allows for bulk downloads.