Loss of the Arabic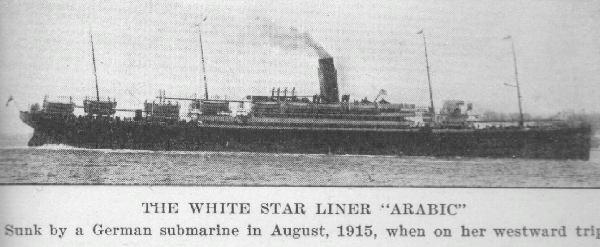 The Arabic, courtesy of Cliff McMullen
The British liner Arabic was torpedoed and sunk "50 miles South by West 1/2 West", from the Old Head of Kinsale by the German u-boat U 24, on the 16th of August, 1915.
Using Naval Operations, volume III by Sir Julian Corbett (Imperial War Museum / Battery Press reprint, 1995) as a source, the 15,800 GRT passenger steamer Arabic (Captain W. Finch) was bound to New York from Liverpool, when she was sunk without warning by the submarine. Although the submarine commander Lieutenant-Commander Schneider had orders not to sink passenger ships without warning, his excuse was that he mistook the Arabic's defensive zigzagging as an attempt to ram. One torpedo was fired, and the ship sink within about 10 minutes. Of the 429 people on board, 389 were saved.
---
Last Updated: 16 January, 2000.

Return to WWI The Maritime War

Return to WWI Archive main page.