Trench warfare on the Western Front may have captured the popular imagination, but the First World War was very much a maritime conflict as well. This section of WWI/WWW provides resources on the naval side - more will be added as contributions are received.
---
A history of changes to the WW1-WWW Maritime Section.
(Last set of updates: 10 July, 2003.)
---
A listing of books and papers (including languages other than English) pertaining to the War at Sea.
---
Communications
Flags, searchlight and semaphore were the established means of communication, but wireless (ie radio) had a major impact on the war at sea.
(Back to Table of Contents)
---

Ships, Weapons, Tactics
The technicalities: ship design; weapon specifications; and the resulting tactics.
Ship Photo Gallery
Some Great War photos taken by James Robert Halliday, RN
Photos by John Prouse
Photos by John H. Rogers
Photographs of the US Navy's 14" Railway Guns on the Western Front
Extracts from Brassey's Naval Annual (various years)
Jane's Fighting Ships, 1919 (an external link)
The Basics:
Ships and Shipbuilding:
Weapons and Defence:
Theory and Design:
Fire Control (gunnery):
Guns, Armour and Projectiles:
Torpedoes and Anti-Torpedo Protection
Mines and Minesweeping:
Tactics:
(Back to Table of Contents)
---
Fleet Deployments // Fleet Lists
(Back to Table of Contents)
---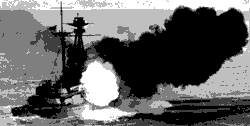 Battles and Campaigns
Orders-of-battle, descriptions, commentary on the Naval Actions of the War (as well as other discreet events) and the campaigns to which they belong.
Battles
Campaigns
(Back to Table of Contents)
---

People and Personalities
Information on those who served (of all ranks), as well as biographical information on the more famous.
Sources of Information
Life at Sea
Biographies
(Back to Table of Contents)
---
Links to Other Websites
A handful of useful links relating to Naval/Maritime History. There are other websites devoted to keeping a more complete collection (notably that of Lars Bruzelius) - these are just some of the ones which have caught the webmaster's eye.
MARHST-L
One of the best places to go if you have an interest in Maritime History is the "MARHST-L" listserver. There are several hundred contributors world-wide, including some noted maritime historians and well-known authors. To join, send an e-mail to the software (no subject required), just the text "subscribe MARHST-L" as the first message line to Marhst-L, LISTSERV@POST.QUEENSU.CA.
Click Here for a list of Other Sites
---
Comments, corrections, and most of all submissions are very welcome:
William Schleihauf

Return to WWI Archive main page.
---
Last Updated: 10 July, 2003.
---
Form and presentation © 1997, GWPDA, Inc. For information regarding content copyright, see the copyright section available at the WWI Archive main page.
---
| | |
| --- | --- |
| | |
| April, 2001 | April, 2002 |