The Loss of HMCS Galiano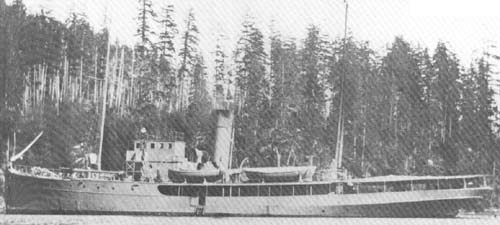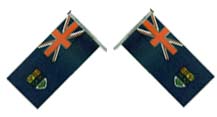 The following article originally appeared in volume VII, number 2, Spring 1998 of Starshell, the quarterly publication of the Naval Officers Association of Canada, and is reproduced here by permission of the editor.
---
Canada's Only Warship Loss in World War One
Ask the average Canadian citizen or sailor how many warships our navy lost in World War One, and a puzzled look will be the likely response. Few are aware that HMCS Galiano, a patrol vessel, was indeed lost only days prior to the end of the Great War and that thirty-nine officers and men, all members of the Royal Naval Canadian Volunteer Reserve (RNCVR), lost their lives.
HMCS Galiano was built by the Dublin Dockyard Company in Dublin, Ireland in 1913 for the Canadian government, to be used primarily in the fisheries protection service, arriving in Esquimalt, BC to assume her duties on February 27, 1914. She was the sister ship of HMCS Malasyina.
Galiano was a steel, single screw vessel with a length of 160 feet, beam of 26 1/2 feet, and a draught of 12 1/2 feet, displacing some 700 tons. She was electrically lighted throughout and fitted with a powerful searchlight.
Galiano's complement comprised thirty-three officers and men. She was named for Commander Dionision Alcala Galiano of the Spanish Navy who explored the Strait of Georgia and named "Galiano Island" in 1792.
It is difficult in the time available, to piece together her history with any degree of certainty, but from the information at hand, it appears she was requisitioned for war service with the Royal Canadian Navy on September 15, 1917, but not commissioned until December 15 of that year.
HMCS Galiano was commanded by Lt. Robert Mayes Pope, RNCVR, and apparently alternated civil duties with those of a naval patrol and examinations vessel off the west coast throughout the war, in addition to carrying out minesweeping training and trials. Her sister, Malaspinq was employed in a similar role.
From what little is known of her relatively brief career, we know that on January 10, 1915, she was damaged in a gale when she and the Norwegian barque Wulff went aground.
Her crew were landed by the cruiser HMCS Rainbow while the supply ship Salvor stood by.
Several attempts were made to float Galiano but none proved successful until a dredge cleared a channel on January 13, and she was towed to Esquimalt harbour.
On August 17, 1915, she caught the US fishing vessel Solano of Seattle, Washington, fishing within Canadian territorial limits, and turned her over to the Chief Inspector of Fisheries at New Westminster, BC.
On October 30, 1918, just days before the Armistice ended WWI, the wireless station at Triangle, BC, received an urgent message from Galiano requesting immediate assistance. A heavy southeast gale was raging in Barkley Sound at the time. As soon as the message was received, all ships in the immediate vicinity and approaching the direction of Galiano, were notified, but nothing further was seen or heard of her.
Lt. R. M. Pope, who had commanded the vessel from the time she arrived in British Columbia waters, and his crew of thirty-eight officers and men, were all lost with the ship.
No trace of the vessel was ever found.
The Department of the Naval Service annual report for the fiscal year ending March 31, 1919, merely reported that she was lost "whilst engaged on important duties off the British Columbia coast."
The matter appears to have remained closed until 1971, when a Mr. A. M. Purvis of Calgary, wrote the Directorate of History in Ottawa (his letter undated but received by DHist. on May 2, 1972), as follows:
"Thank you for your letter and enclosures dated 14 September 1971.
As a result of a visit to Vancouver and Victoria recently, I have been in correspondence with former Galiano crew members and relatives of those lost.
Information obtained from them does not agree with the history you have sent to me, and 1 am writing to set the record straight. A former stoker who was also sent ashore sick and later transferred to Malaspina, and was in her when the search took place says:
'About October 20, 1918, Galiano returned from the Queen Charlotte's for repairs and boiler work, as we were having trouble with the main bearing of the tail shaft.
We had coaled up at Ladysmith and a number had the flu and were sent to sick bay when we arrived at Esquimalt. The Malaspina had stores and supplies for the wireless stations and lighthouses on the West Coast, and the north end of the Queen Charlotte Islands.
The morning Malaspina was to leave they had an accident at the jetty and crumpled her bows, so had to go into Yarrows Shipyard for repairs.
Galiano received orders from Lieutenant-Commander Birley (?) to take the supplies off Malasyina and proceed north, and on her return, the boiler work and repairs were to be done at the shipyard at Prince Rupert.
Galiano's crew was completed from Malasyina. Galiano went down on October 31, 1918 between Cape Scott and Cape St. James near Triangle Island in Queen Charlotte Sound.
As far as they knew, she foundered in heavy seas as she was caught in the tail end of the storm that wrecked and sank the CPR Princess Sophia with a total loss of crew and passengers of 345 in the Lynn Canal.
[The official Canadian Pacific, BC Coastal Services' record indicates the Princess Sophia broke up on October 25, 1918 after striking Vanderbilt Reef in Lynn Channel during a snow storm on October23, with the loss of all passengers and crew-343 persons. It was the worst disaster in the history of the CPR's BC Coastal Services. Ed.]
Neary, the wireless operator in Galiano, got a message through to his brother, also a wireless operator on Triangle Island [stating] 'Hold's full of water, for God's sake send help.'
This message was also picked up by wireless operator, J. St. Moiss at Bamfield. Three others and myself [the unnamed stoker. Ed.] went aboard Malasyina on our return from the flu, and when repairs were finished, we took supplies to Triangle Island and the West Coast lighthouses.
We also brought back the large lifeboat from the port side of Galiano, and the skylight from the forward hatch. These had been picked up by fishermen.
The three bodies that were picked up, had only their flannels on. They were Leading Stoker Hume from New Westminster, AB Ebbs from Nelson, and AB Aird from Scotland.
I trust that you will find this material of interest. The writer is an intelligent man and was in business for many years, and I am sure that he is correct in what he says.
[Signed] A. M. Purvis.
A memorial was erected to the members of HMCS Galiano's ship's company in the Ross Bay Cemetery in Victoria.
As 1998 marks the 80th anniversary of the loss of HMCS Galiano, the sole Canadian warship lost in World War One, consideration is presently being given by MARPAC, NOAVI and other members of the Victoria naval community, to holding a suitable ceremony to commemorate her loss on October 30 of this year.
---
Return to WWI The Maritime War
Return to WWI Archive main page.
---
Last Updated: 13 July, 1998.