Whiskers Thompson -
Seaman, Submariner, Smuggler
by J. David Perkins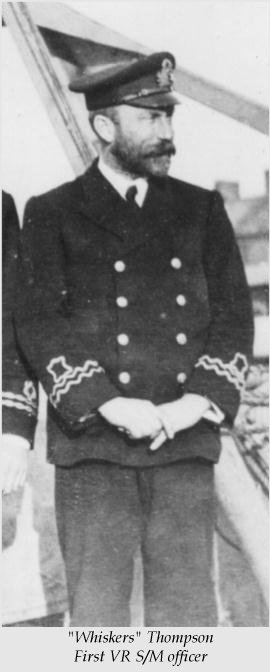 The first ever RNVR in submarines was (Temporary) Lieutenant William Lowell Thompson. A friend of mine pointed this out to me years ago when he showed me the passage in Edward Young's book, One of Our Submarines. When relating his World War Two submarine experiences the author described himself as having been the first ever RNVR officer to serve in submarines. However, somebody soon wrote to tell him that there had been at least two other RNVR officers in submarines before him. Consequently, all subsequent printings of his book have included a footnote in Chapter One as follows:
I now learn that Lt. J.D. Scott-Maxwell had preceded me in October 1939, but as an engineering officer: also that in the 1914-18 war at least one RNVR officer, Lt. W.L. Thompson from Canada, served in submarines.
William Lowell Thompson was born in Galway, Ireland, on 26 July 1873 the son of D'Arcy Wentworth Thompson, professor of Greek at Queen's College, Galway, and his second wife, Amy. William had an older brother and four sisters by his own mother and a half-brother 13 years his senior by their father's first wife.
In 1896 young William arrived on Vancouver Island to seek his fortune and found work in the Barkley Sound area. By the time he was 26 he had settled in Ucluelet where he acquired some land and a house. He made a modest living as a general merchant, farmer and fisherman, took in boarders and did a little prospecting. In 1903 he married Sarah MacLean.
A short, stocky man with a with a strong work ethic, William was a stalwart member of the community and possesed a true pioneering spirit. When a lifeboat station was set up at Ucluelet in 1907 William joined the crew. He was awarded a gold watch by the grateful citizens of the community for his efforts in saving the life of a fellow crew member when their cutter foundered.
William's interest in the sea was not as unusual as it may seem . His paternal grandfather, John Skelton Thompson, had been a sea captain and there was a long line of seagoing Thompson men before him. William's father was born at sea off Tasmania aboard the barque Georgianna. His older half-brother, though an accademic and scientist all his long life, specialised in marine biology.
With the onset of the war came the opportunity to make a steady wage for a while and maybe even get overseas. Thompson's experiences as a lifeboat coxswain and fisherman stood him in good stead and he was granted a commission in the RNVR as a Temporary Lieutenant.
It was at this time that the H-boats were being commissioned at Montreal. The manning problems were common knowledge in the naval community at Esquimalt. Thompson couldn't help but know about the situation and doubtless he volunteered his services, and was accepted to become the first RNVR officer ever to serve in British submarines, and the first Canadian to do so. At Montreal Thompson was assigned to H-5 as third hand and on 2 August 1916 the boats arrived in the UK and were soon operating from Yarmouth with the 8th Flotilla. In all, six RNVR officers served in submarines during WW1 but Thompson was the only one to serve his entire career in submarines.
Within a few months Thompson had qualified as a First Lieutenant. Although he spent most of the war in Spare Crew at Yarmouth he was often sent on patrol filling in for sick or missing officers. When the RN brought three of the American-built H-boats over in 1918 he was sent to help bring them to the UK.
Thompson was not demobilized until 15 March 1919, which was the date of his arrival back in British Columbia. He returned to Ucluelet and his family, acquired his inshore master's papers and went into business in the fishery.The post-war recession, however, had already set in and business prospects were not good.
With the passing of the Volstead Act (Prohibition) by the American Government on 16 January 1920, a whole new Canadian industry was born. It was popularily called "rum- running" and its activities spanned the country from Victoria all along the 49th parallel, the Great Lakes, the St. Lawrence River valley, into the Maritime Provinces and all the way to Newfoundland. For the most part it was a quasi-legal enterprise whereby Canadian entrepeneurs supplied legal, and sometimes illegal, alcoholic beverages to American "distributors". The Canadians didn't have to venture beyond their own country's boundaries to complete their transactions, although many chose to do so as the profits were better. The real danger was from hijackers, not the American or Canadian authorities.
Soon a thriving operation was being operated out of Victoria. The new industry was made-to-order for seamen with a sense of adventure, such as "Whiskers" Thompson. Thompson moved his family to Victoria in 1922 and operating under the names of companies like Arctic Fur Traders, Goose Island Fisheries and the Atlantic and Pacific Navigation Company, began a profitable career in rum-running.
It was a boom time for out of work skippers like Thompson. By hook or by crook they would acquire a suitable vessel, engage a small crew, buy and load a cargo of liquor and sail off into the blue. The larger vessels would head for the small, back-water ports along the Western Seaboard or to Ensenada in Mexico close to the American border. Very often they redezvoused with their American contacts off the larger ports outside the 26-mile territorial boundary. There their cargo would be loaded into the smaller, high speed, craft used for final delivery.The smaller supply boats trans-shipped their cargoes during darkness in Canadian waters in the approaches to Seattle.
Thompson was an early comer to these activities. In 1923 he was running contraband in the old sealing schooner Borealis, a well known and oft used rum-runner. The schooner was registered to the Arctic Fur Traders Exchange and Thompson was listed as the Manager. On one occasion Borealis was caught by the US Marshal alongside at Eureka, California, with her cargo still aboard. The Marshall sealed the hatches and placed the ship under arrest. In the dead of night Thompson slipped his lines, hoisted sail and headed down the coast to Pescadero. There he landed his cargo sucessfully and changed the name of his ship to Odeon.
In May, 1931, Goose Island Fisheries, of which Thompson was registered as the president, bought the 259-ton, oil-fired steamer, Chasina. Originally built in 1881 at Glasgow as a yacht for the Earl of Anglesey, the ship had led a chequered career and passed through several name changes and owners. When Thompson bought her she had been abandoned after being used as a rum runner and was sold to cover wharfage fees. Despite her years Chasina was still mechanically sound. Thompson re-sold the ship to another "paper" firm, Mid-Western Shippers Limited, for $1,700. It was probably a partnership deal for he remained in charge of the vessel. She was fitted with a wireless set and outfitted for a long ocean voyage. As Thompson only held an inshore ticket, Captain S. Kitching, was hired to act as her deep sea master.
On 16 May the Chasina departed Victoria bound for Shanghai where she arrived four weeks later on 13 June. According to a report in The Shanghai Times she had barely a single barrel of fuel oil left in her tanks. Otherwise the journey had been uneventful. While at Shanghai an additional fuel tank was installed below and a whale-back cover was built over her fore peak. Afdterward she sailed to Hong Kong.
There was no hint of what kind of cargo she was seeking but as she could only carry about 130 tons it had to be valuable. Opium and illegal Chinese immigrants were favoured by the speculators. A load of liquor, no matter how exotic, would hardly have justified the expense. On 6 September she cleared Hong Kong bound for Macao.
On 25 September 1931, Thompson's 51-year old, 259-ton steamer left Macao ostensibly bound for Ensenada, Mexico. The nature of her cargo was never revealed. The one-time yacht with her eleven man crew was due to meet another West Coast rum-runner at sea 1,000 miles off the coast of the Oregon coast sometime around 9 October.
The Chasina was never seen nor heard from again. The contact vessel waited for sixteen days keeping a wireless watch and a sharp lookout but neither saw nor heard anything of her missing consort. The British, Canadian and American authorities were alerted but their searches at both ends of the ship's route proved fruitless. When Chasina had failed to arrive at her destination by 24 October and was not reported by any other ships, she was presumed to have been lost at sea with all hands.
A relative of one of the missing men backtracked along Chasina's course, visited her stopping places and interviewed the few witnesses that could be found. Although he filled in some of the missing pieces to the jigsaw of her disappearance he was frustrated by the secrecy that surrounded the whole enterprise. No clue as to her fate, whether she was taken by pirates and the crew murdered or they succumed to a storm at sea, or whatever, has ever been uncovered.
Adventurer, pioneer, submariner, sailor and smuggler Willian Lowell Thompson lived life as he found it. He was no stranger to economic hardships or the rough and ready life of the coast and the sea. He took his chances and in the end lost out to circumstances he helped to create.
TARRYBREEK
by
The Alecto Poet
Of Tarrybreeks a lay I'll sing,
Euchulet's famous Slumber (Lumber?)
King,
Who there, remote from worldly strife
For years endured the simple life.
A lovely spot dispite (despite?) its
name
For which the place is not to blame.
Old Tarry felt a trifle slow
No picture palace could it show.
(15 verses omitted)*
So he forsook that peaceful scene
And hiccoughed in (hied him to?) a
Submarine
And felt how grand it was to be
A terror both by land and sea.
Though none would think to look
at him
That he'd not stick at anything
His aldermanic figure hid
The spirit of a Captain Kidd.
(4 lines indecipherable)*
In native wilds unto his beard
Treacles (Icicles?) frequently adhered
If such a thing could happen here
They'd change to cream (steam?) and
disappear
(The next four lines read very oddly)*
On vealess disipation bent
The Cunemas he'd of prequent,
And move thin once was seen to
dine
With laddies frim the fantomine.
(Now the poet gets into his stride again)
When dining out in merry mood
He did not act as others should
But frequently would leave his
chair
And dance among the Chinaware.
Now though this roués playful
ways
In other folk might cause amaze
He really didn't care a damn
That venerable, worthy, man.
He's up to any mortal thing
This unrepentant Lumberking,
Throughout the world where'er one
seeks
None can compare with Tarrybreeks.
* These notes were in the original and appear to have been be put there for the sake of style rather than meaning.
This ditty, describing a World War One submarine officer, was featured in Maidstone Magazine No. 16 for March, 1916, a newsletter published by the Harwich-based 8th Submarine Flotilla. The author is identified only by his pen name but the subject is obviously a man from Ucluelet, a lumber and fishing community at the entrance to Barkley Sound on Vancouver Island's west coast. He was an officer in the Royal Naval Volunteer Reserve serving in the Submarine Branch. His name was William Lowell Thompson and his naval service is unique. As a Volunteer Reserve submariner he was the first of his kind and the only First World War RNVR officer to serve his entire active service in the British Submarine Branch.
---
Last Updated: 10 October, 2000.

Return to WWI The Maritime War

Return to WWI Archive main page.