Loss of HMS Princess Irene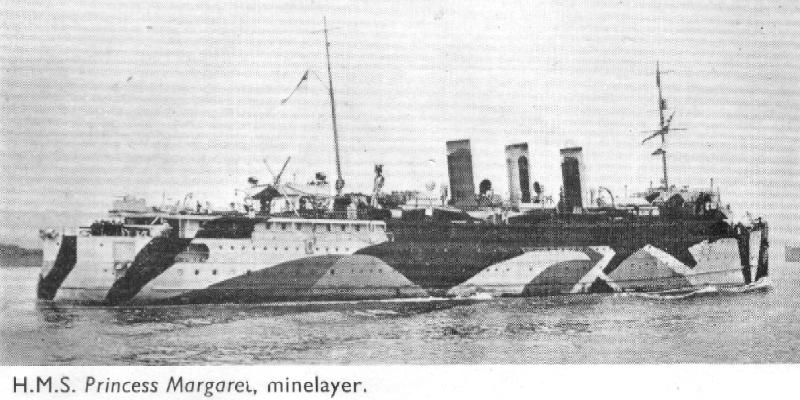 Near sister HMS Princess Margaret
From Bernard de Neumann (De.Neumann@btinternet.com) (originally posted on MARHST-L, September 2002).
---
The steamship Princess Irene was built to the order of the Canadian Pacific Railway Company for their luxurious "Triangle Route" linking Vancouver, Victoria and the American city of Seattle. The ship was completed at Dumbarton, Scotland, in 1914 but, before she was able to leave for the Pacific, was requisitioned by the Royal Navy and converted into a Minelayer. She was 5,900 tons, 395'x54'x28' launched 20 October 1914. Based at Sheerness in Kent, she was in the River Medway on 27th May 1915 when she blew up as a result of a catastrophic internal explosion. There was only one survivor.
At about 11.14 on the morning of 27th May 1915, Sheerness witnessed the destruction of the minelayer HMS Princess Irene which was on No.28 buoy about 3 miles WSW from the town centre. The ship had been built in Scotland in the previous year to the order of the Canadian Pacific Railway Company but was requisitioned and converted for Naval use before she could sail to the Pacific. The Princess Irene had a complement of 225 officers and men, three of whom were ashore that morning as the mines were being primed on the ship's two mine decks. Also on board were a party of 80 or so Petty Officers from Chatham in addition to 76 Sheerness Dockyard workers who were completing tasks prior to the ship's planned departure to lay her mines on 29th May.
Without warning, the ship was blown to pieces and her remains, and the remains of those on board, were scattered over a wide area of the surrounding river and countryside. One of the Chatham Dockyard workers, David Wills, amazingly survived the explosion but few bodies were found. Those that were located were buried in Woodlands Cemetery in Gillingham. A memorial to those lost in both this and the Bulwark disaster is situated opposite Sheerness Railway Station.
The cause of the disaster was thought to have been due to a faulty primer (pistol)although evidence at the Official Enquiry showed that the work of priming the lethal mines was being carried out a) in a hurry and b) by untrained personnel. The lower decks and keel of the Princess Irene remain more or less intact and have caused a degree of navigational problems to the large ships now using the eastern end of nearby Thamesport. At present there are no plans to raise her remains.
Book: Blown to Eternity - The Princess Irene story (Ferry Publications), by John Hendy.
---
Jon Saunders adds:

At approximately 11:15 on the morning of Thursday, 27th May, the Princess Irene was anchored off Port Victoria Pier in Salt Pan Reach, near Grain, when she suddenly suffered an internal explosion. Eye witnesses stated the flames rose as much as 2 miles high before settling into a dense cloud of white smoke. The water was thick with oil and wreckage. Iva Barden, then aged 9 and playing in her garden at Grain, was struck by a metal plate. Rainham was showered with debris between Motney Hill and Bredhurst and glass shattered as far away as Sittingbourne.

Loss of life was heavy for as well as carrying only three men short of her full compliment of 225 officers and men, there was also an additional 160 or so men made up of Petty Officers, sailors and dockyard workers from Chatham and Sheerness. They had been aboard her to complete various tasks before she was due to lay the 500 mines she was carrying 48 hours later. Immediately stories spread of nefarious acts by German spies, and a story was reported of a dinghy leaving the Princess Irene shortly before the explosion. In truth, the Official Enquiry held by the Royal Navy was quite damning and referred to the priming of mines being carried out by ill-trained men under hurried circumstances. In a cover-up the final report blamed the explosion on a faulty primer.

Only one man survived and the few bodies that were located were buried in the Naval section of Woodlands Road Cemetery in Gillingham. A memorial to those lost in this disaster and also HMS Bulwark that suffered an internal explosion just off Sheerness in September 1914, was subsequently erected by Sheerness Railway Station.
---
Last Updated: 22 January, 2003.

Return to WWI The Maritime War

Return to WWI Archive main page.