Officers of HMCS Rainbow, November - December 1910
Contributed by J. D. Perkins.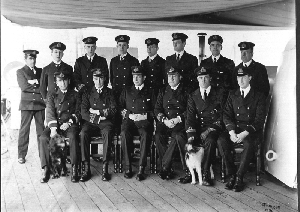 Photo by S. Thompson, Vancouver
Copy courtesy MARCOM Museum
Donated by Michael Curry
Back row (left to right)
Gunner Ernest Jehan; Engineer Lt. Roland H.M. Bury; Lt.(N) Ronald H.C. Hallifax;
Lt. Richard L. Edwards; Chief Art. Eng. Reginald H. Wood; Gunner Herbert Mock; Gunner(T) Cornelius W. King; Carpenter Joseph Poling.
Gunner Jehan's involvement in the sinking of UB 4 may be found by clicking here.
Front row
Staff Paymaster Robert A. Jinkin; Lt. Aubrey E.D. Moore; Commander James D.D. Stewart, CO; Eng. Cdr. Thomas J. Morgan; Lt. Reginald V. Holt;
Eng. Sub-Lt. A.D.M. Curry, CNF.
Canine complement: "Driver" and "Mimi"
---
Last Updated: 1 August, 1999.

Return to WWI The Maritime War

Return to WWI Archive main page.