Royal Naval Canadian Volunteer Reserve Recruiting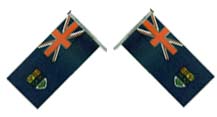 During the Great War, Canadians were recruited into the Royal Naval Canadian Volunteer Reserve, a part of the Royal Navy. The RNCVR had been formed before the outbreak of war, the first public appearance being in January 1914. At least during peacetime, the volunteers served without pay, except when actual onboard ship. (The source for this information is the piece Admiral at Bay which appeared in the March 1959 issue of Crowsnest - the "house magazine" of the Royal Canadian Navy).
Quoting from the article The Days of the RNCVR by Lieutenant Peter Ward RCNR (in the April 1962 issue of Crowsnest):
...the Canadians of the Royal Naval Canadian Volunteer Reserve served in a variety of drifters, fishing boats and trawlers, sweeping clear the shipping lanes of the North Sea, English Channel and Western Approaches. There were 1,700 men attached to the RNCVR overseas division...One group...formed their own flotilla and took six drifters to Sierra Leone [where they may have started the tradition of the Maple Leaf displayed on the funnel of Canadian warships], where they served with distinction till the end of the First World War...By June 15, 1920, the last RNCVR man had traded his uniform for civvies.
In 1923, reserve components of the Royal Canadian Navy (RCN) itself, the Royal Canadian Navy Reserve (RCNR) and Royal Canadian Naval Volunteer Reserve (RCNVR) were formed.
The graphic below, taken from the May 1956 issue of Crowsnest, shows the recruiting requirements for the RNCVR as of 1916.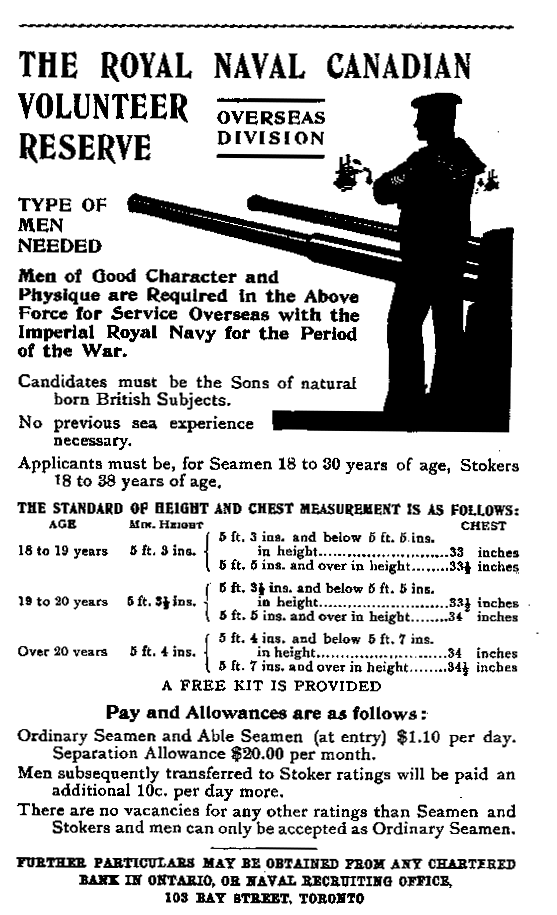 Thanks to Jerry Proc for the contribution!
---
Return to WWI The Maritime War
Return to WWI Archive main page.
---
Last Updated: 21 January, 1999