Admiral Sir Reginald Tyrwhitt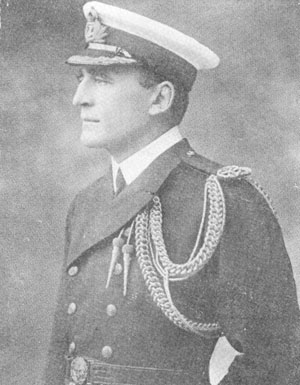 Commodore Tyrwhitt at the time of Heligoland
Commodore Sir Reginald Yorke Tyrwhitt (10 May 1870 - 30 May 1951) was one of the better British Commanders during the First World War. The most complete biography is Tyrwhitt of the Harwich Force, by A. Temple Patterson (London: Military Book Society, 1973) from which this summary has been extracted.
Tyrwhitt joined the RN as a cadet in 1883 - followed six months later by the better known David Beatty. In August 1912 he was appointed Captain (D) of the Second Flotilla of Torpedo Boat Destroyers, and then on 1 December 1913 he was promoted Commodore (Second Class), and put in command of all the destroyer flotillas of the Home Fleet - flying his flag in the light cruiser HMS Amethyst.
Tyrwhitt's war station was Harwich, and the force under his command was soon known as the Harwich Force - from whence his fame. He saw action at Heligoland Bight; and Dogger Bank, but was held back by Admiralty Orders during the Battle of Jutland.

This photography, courtesy (and copywrite) Dr. Martin H. Evans, taken 8 August 1998, shows a composite needlework picture, part of the collection of the Low Lighthouse Museum, Harwich. The caption reads: Commodore Reginald Y. Tyrwhitt, C.B. R.N. (The Stormy Petrel). (Click on the photo for an enlargement).
---
Last Updated: 30 December, 2000.

Return to WWI The Maritime War

Return to WWI Archive main page.