William Clent's Marriage Banns
by Jon Saunders

William Clent and Elizabeth Kaile, taken on their engagement.
All images copyright (c) Deborah Beeston.
Amongst the contents of a suitcase of family ephmeria Deborah Beeston has rekindled a family history story tragically linked to 9th July 1917, and the loss of HMS Vanguard.
It has long been known in her family that Great Aunt Tassie had been engaged to a sailor who had been killed during World War One. Some time ago Deborah had been given an heir loom - a jewellery box - as with all jewellery boxes this box was no different in having a secret compartment and once found, this secret compartment gave up a very dried old rose and a locket containing the photo of Aunt Tassie's first love, William Clent, a stoker who lost his life when HMS Vanguard exploded at anchor.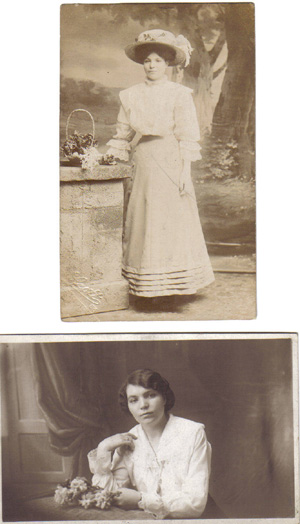 The jewellery box and the suitcase had been a gift to Deborah from Lilian Willoughby, Great Aunt Tassie's daughter from her eventual marriage to Philip Willoughby. Tassie, was born Elizabeth Kaile in 1893. Her father, George Kaile, was a lighterman on the Thames, and family history suggests Tassie would have liked to have been a boy and joined the Royal Navy or worked on the river alongside her father. Throughout her life she would choose to live close to the sea.
Exactly when Tassie and William Clent met is not known but it is more than possible they met around the end of 1916 when many of the Vanguard's crew were given shore leave. Sadly no letters have survived and if it hadnt been for a locket, some photos and a few bits of paper, their story would have been lost to history.
It is likely this was a whirlwind romance and sadly like so many other love stories from those war years, a romance of short duration and an abrupt and sad ending. However it was a very real romance between two very real people. Deborah remembers that the 9 July was always a significant date for Tassie and despite marrying Philip in 1920, she kept her few mementos of William safe, only being parted from them when she died in 1977.
By that time Philip, himself an old sailor that served in the First War, had been dead eight years. Their daughter, Lilian, had remained a spinster and although there had been another child, a son, George, he had lived just three days.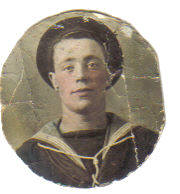 William Clent
Little is known about William Clent. His Attestaion Form provides some small details and a physical description: He was born at Southwark, 26th August 1893 and had been employed as a gardener before entering the Royal Navy on 22nd October 1912. Physically he was well developed for the time, standing 5'8 and with a 39" chest. He had a fresh complexion, brown hair and blue eyes. Later, he would follow Naval tradition and have an anchor tattoed on his right forearm.
William's first seven months in the Royal Navy were spent in training at the shore establishment at Sheerness, HMS Pembroke II. As fate would decree, HMS Vanguard would be William's only ship and he joined her on 4th July 1913.
He must have been marked out as having leadership qualities for regular promotions followed, culminating in his passing the Petty Officer exam in March 1917. He was appointed Acting Stoker Petty Officer the following month at the relatively young age of 23 and would have been confirmed in this position as soon as a vacancy occurred.
The Commonwealth War Graves Commission gives his next of kin as his mother, Mrs Elizabeth Clent, of 41, Reventlow Rd., New Eltham, London. His family do not appear to have maintained any contact with Tassie. It is even possible that William had not been able, or in those bygone days when life's decisions were dominated by parents and the family, chose not to tell his parents of his plans.
William's letters have not been found - perhaps Tassie chose to destory them as something sacred between her and William. However, amazingly the documentary record of William and Tassie's wedding banns having been read out at church service on HMS Vanguard during May and June 1917 has survived. This would have been an important document and necessary for William and Tassie to marry. William must have sent it to Tassie for safe-keeping with one of his very last letters.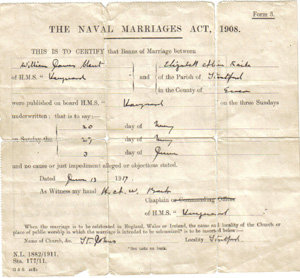 Marriage banns read out onboard HMS Vanguard
There were Vanguard men absent on the night of the explosion by virtue of being on shore leave. Further shore leave was due to other men in August and September. Almost certainly William knew he was due his next leave very soon and his intentions were clear. On the 9th July, whilst William was involved in stoking the Vanguard's boilers as the dreadnought undertook what would be her final exercises, at the other end of Britain Tassie had made a special trip to Spiegelhalter the jewellers in Mile End Road, London. She must have left the shop with an extra spring in her step as she carried her wedding ring back home in anticipation for William's next leave and their big day.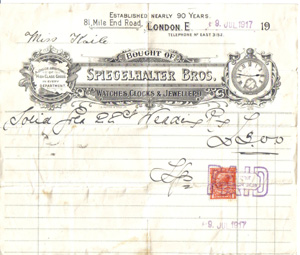 receipt for the wedding ring, dated 9 July 1917
Unfortunately the 9th July would become a memorable day for other reasons. As we now know, HMS Vanguard was destroyed at anchor late that evening from an internal explosion. William and all but two of those on board would lose their lives.
News of the Vanguard tragedy spread quickly - it being a Chatham ship news arrived in the south-east very soon. A telegram was received by William's mother the next day and at the very latest we can assume Tassie heard the news by the 11th July. She wrote to the Admiralty and received confirmation that William had been killed.
| | |
| --- | --- |
| letter confirming his death | letter regarding Clent's effects, etc |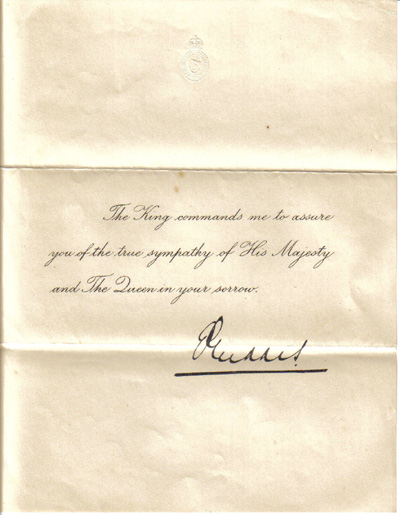 condolence letter on behalf of HM the King
Tassie was fortunate to find a new future with Philip Willoughby when so many other young women led a life of spinsterhood following the loss of a husband or a sweetheart during the war. Tassie carefully put her few momentos safely away, secreting a locket and a rose in her jewellery box and there the story of William and Tassie may have ended and been forgotten.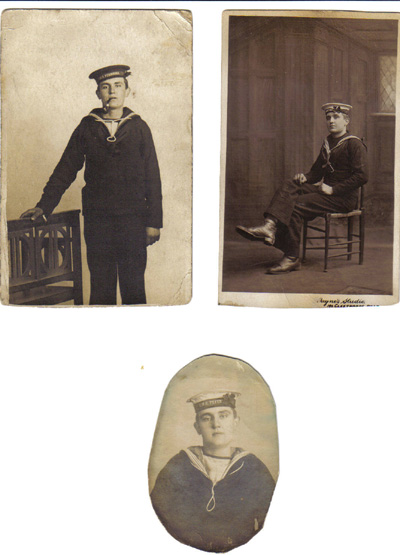 Phillip Godfrey Willoughby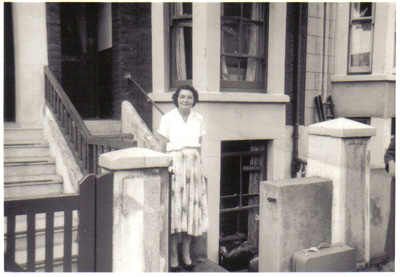 Elizabeth Alice Willoughby in later years
Therefore thanks are due to Deborah for allowing these documents and photographs to be reproduced here. In Deborah's words, "they have been shut away for far too long, and I would be pleased, as would my Great Aunt if she was here, to see William remembered".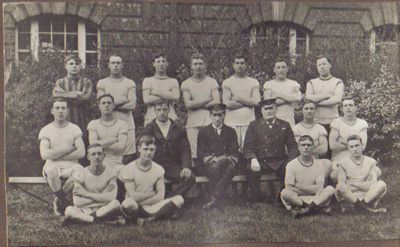 Clent is in the backrow, second from left.
---
Last Updated: 29 December, 2005.

Return to WWI The Maritime War

Return to WWI Archive main page.