Coaling Ship from a Collier
This is a chapter from the book Whispers from the Fleet, by Captain (as he was then) Christopher Cradock (2nd edition, J. Griffin & Company, 1908). Cradock was lost with his squadron off Coronel in 1914. The terminology is somewhat technical - Rigging can help.
---
I will head these remarks written by Commander Hugh Sinclair of the Leviathan with a respectful suggestion to our constructors that on every vessel being built, it should be decided on which side she should invariably coal from a collier (unless under some impossible conditions she is obliged to use the other); and on this being done, all facilities to expedite her coaling should be most carefully thought out, calling in the experience of some well proved sea officer.
Impedimenta on a man-of-war's upper deck there must always be, but let it be unshipable, and above all stowed in a convenient manner. - I well remember one contract built ship whose Temperley was landed anywhere, and the immovable hawser reels were stuck about like hat boxes on a railway platform.
In planning out the arrangements for the upper deck for coaling, the old saying that - 'one hand overhauling the clewline is worth a dozen on the sheet' - might be remembered with advantage. - By which I mean, the leads of all whips should be clear and straight; good open spaces (easily prepared) for swinging and landing the bags, and particularly, the bunker lids should be in the most suitable places. Coaling ship is now I suppose our most important evolution, and it is a fact still quite unrecognized by the dockyards.
And now let me give the notes. As soon as possible after commissioning, select the side of the deck which is the more convenient in every way, ie - that which is the clearer of fittings, and fix upon it as the side on which to coal ship; then improve it by removing or making portable all obstructions, such as:-
Overhead ash-rails.
Hawser reels.
Bunker lids, clips and fittings (in the narrow gangways).
Drums on the end of boat hoist, or motor winches.
Lockers, stanchions, etc, etc, which are in any way likely to obstruct the coaling dumps or gangways.
Prepare a plan of your deck (a scale of 1/16th of an inch to a foot will be found convenient) shewing the position of all coaling derricks, coaling hatches, and coal shoots, etc.
The following gear is supplied for the purpose of coaling ship.
In charge of Boatswain.
Coaling whips of 2 in steel flexible wire with malleable cast-iron blocks, shackles, etc.
Out-hauls for whips of 3 ½ in hemp (these require fitting).
NB- Admiralty colliers are also always provided with 4 in Manilla for this purpose, which is preferable to hemp; but there is usually considerable difficulty in extracting it from the master or mate of the collier.
Stage lashing of 3 ½ hemp for making bag slings.
Triatic stay to go between mastheads for carrying the whips or derricks (or both), according to the class of ship.
Fenders, coaling screens.
Large ships also carry a Temperley transporter complete with guys, slings, etc - in care of engineer officer.
In charge of Engineer Officer.
Coal bags holding about 2 cwt.
Shovels (pointed or 'navigator' square ended).
Baskets.
Trollies.
goggles, and canvas gloves (for patent fuel).
For a heavy coaling in a large ship, the following gear is required:-
At least 150 bags per hold in the collier.
At least 50 shovels per hold - or as many as there are hands to work in the hold.
At least 12 strops per hold; and don't forget to have a maul or firebars in each hold for breaking up the large lumps of coal.
Preparations for Coaling.
If you have not got a plan of collier, send and measure the length of her hatches and the distance between them.
Note also the state of her winches, derricks, and gear, and what beams require to be unshipped in her holds, and which side the winches exhaust.
Make a plan of measurement on paper (scale 1/16th of an inch to the foot), and put the plan alongside the plan of your own ship:-
Work it about until the best position for the collier is found, ie - with each hold in the collier as nearly as possible directly opposite the place where you want to dump the coal on board your own ship; and with the exhaust from the winches, for preference, on the off side.
Note particularly where the after end of No. 2 hold in the collier (which is usually the hold nearest the bridge) is with reference to your own ship, and chalk or whitewash a large mark on your own ship's side where you want this to be, as a guide to the master of the collier. - Great saving of time in getting the collier alongside will thus be effected.
Rigging Coaling Whips.
Derricks are preferable to stays for working whips on account of there being less play, but they are more trouble to ship and unship.
The best method of working the whips in my opinion, is to work two whips on each derrick brought to your own (or the collier's) winches as most convenient, with a third ready rove as spare. These should keep a continuous stream of six-bag hoists going.
Five or six turns with the whip are taken round the drum of the winch which is heaving round all the time. As the bags are thus lifted, the out-haul is eased away until the bags are high enough to clear the nettings of your own ship, when the out-haul may be let go, and as the bags swing in, the whip should also be slipped, and the coal landed on the deck.
Men working the whips should always have canvas for their hands.
The out-hauls should be worked from the collier not from your own ship, as the latter plan greatly increases the strain on the collier's derrick.
Some officers prefer to bring the whip to the barrel of the winch which has been previously lined up to a suitable diameter. A standing part is made fast to the barrel, and the whip wound on to it, the out-haul being eased as before when high enough; in this method the winch has to be walked back to land the coal on the deck, which causes a lot of delay unless the winch is a very good one, and the men well trained.
The following gear is required for rigging collier's derricks over each hold if using two whips:-
1 Luff for derrick topping-lift.
1 Luff for guy.
1 Jigger for any special purpose.
2 Leading blocks and strops for leading out-hauls to bollards in collier.
1 Wire strop for topping-lift at collier's masthead.
1 Wire strop for derrick topping-lift, and guy.
2 Wire strops for out-haul clump blocks on derrick.
2 Wire strops for gin block at masthead of collier.
2 Gin blocks for the leading whips to collier's winches.
12 Coaling strops.
Spikes. Spunyarn. Shackles. Chafing mats. Nets for bags. Split pins for pins of blocks. Ladders for getting men into collier.
NB- If the second whip goes on to the centre of the derrick, additional topping-lifts and guys must be put on; and for this, jiggers will do.
If a third whip is kept ready rove, additional blocks and strops will be necessary for it.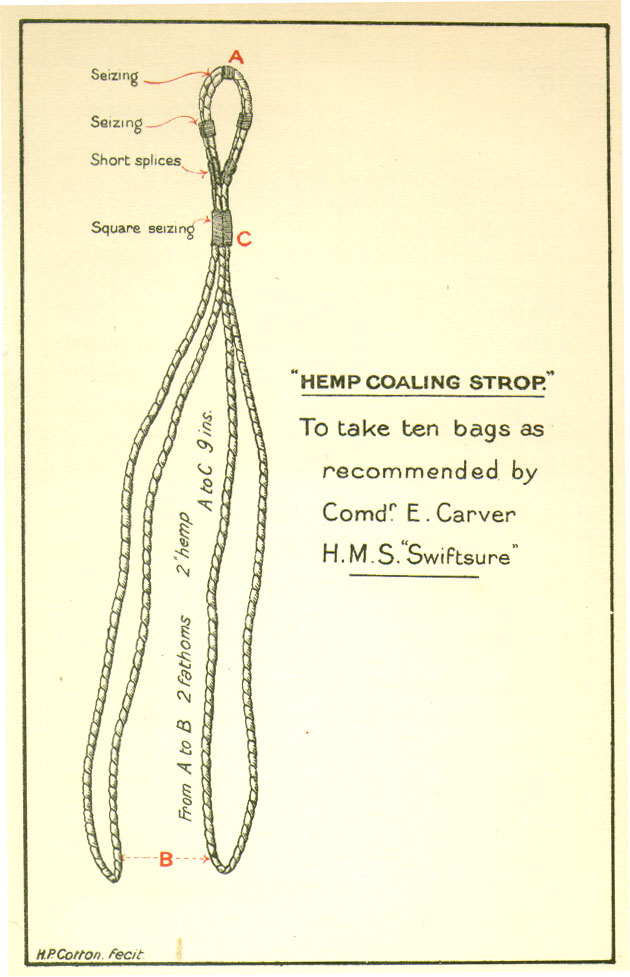 Working Collier.
Rig the collier as rapidly as possible, and try to get a hoist in at once - this may save you a disagreeable night's coaling.
Rig the derrick before tricing it up, and use the steamer's whip to raise it. Trice up your own tackles, and haul the derrick will over from your own ship, hooking out-haul clump block on to derrick by a short strop - this makes up a little for a slack out-haul.
Fill up bags directly you get into the hold. Divide men into groups - don't change these groups in future coalings.
Let the whip work steadily round and never keep it waiting.
Dig round the sides of the hold and leave the centre high, this allows the coal to run down into the bags and also prevents the bags swinging as they go up; again, it keeps the men clear of falling bags.
Dig big shovels-full, you have to lift a half-empty shovel just as high as a full one, and the shovel's own weight is always there.
Don't shovel too far off from the bag, as otherwise half your coal probably misses the bag. 'Bag holders' should keep the mouth of the bag low until it is nearly full - coal heavers ashore keep the bag close down and shovel right into it.
A bag only requires one man to hold on to it.
Never heel the collier from the ship, as this increases the chance of bags catching under the hatches if out-hauls are eased too quickly.
Start easing the out-haul directly the bags are clear, and keep easing until ordered to 'let go.' Haul the out-haul quite taut so as to keep bags clear of the sides of hatch.
Be very careful in passing bags out, not to let them go overboard, as this causes the cry 'more bags.'
Specialize for all berths, and don't change the men if it can be avoided. Keep on examining your gear, and always be on the look out for breakdowns.
Telling off Hands for Coaling.
INBOARD.
Tippers (2 to each shoot).
Trolley men.
Men for unslinging bags inboard.
Men for passing bags outboard into collier.
Bag repairing party.
Relieve sentries, and corporals of gangways.
Make out list of men excused coaling.
IN COLLIER.
Men for working whips on winches (2 each).
Out-haul men (3 or 4 on each).
Rounding-down line men (each whip).
Bag passers in collier.
Hands for working on in hold.
All remainder to be told off in gangs to shovel and hold up bags.
Note:- Since these few remarks on coaling ship were penned by Commander Sinclair, I believe that the Leviathan has broken all previous records by taking in from a collier (using only her own ship's company) 2400 tons at an average rate of 174 tons per hour.
When the officer goes with the carpenter to view and measure the collier prior to coaling, he should ask the master when ranging his ship alongside to put her bow in as much as possible (the stern will look after itself); also tell him not to drop his anchor too soon, as they generally make much ado over this evolution. Of course it is well known that if coaling at daylight, it saves much time to get the collier alongside, and whips rove, the night before; but if at any time, coaling or otherwise, she begins to work, and it is not war time, never mind the 'record', shove her off - it's not worth it.
Too many nets cannot be used between the vessels to catch the coal bags.
Here at the end of this chapter, in the second edition, I must make mention of two recent records made by the King Edward VII (Captain H. V. Pelly) in the Autumn of 1907, and in February, 1908.
On the first occasion when coaling from the collier Muriel Coverdale, and using her own appliances, she averaged 285 tons per hour on taking in 987 tons; and in the subsequent coaling, from the collier F. Duncan under similar conditions, the coal came in a the rate of 289.2 tons an hour on receiving 1180 tons. Neither must I forget to mention another meritorious performance ie - that of the Illustrious (Captain H. H. D. Tothill) which, on the same occasion that the King Edward VII did so well from the Muriel Coverdale, took in 700 tons at the average of 262 ½ tons per hour.
The commander of the King Edward VII at the time of these evolutions was Commander G. H. Baird; and he has since done me the honour to forward for my criticisms some capital notes of his own on this important subject of coaling. As the Service will certainly benefit; in return, I asked him to permit me to reproduce his remarks and suggestions, and here they are. - He says:-
The question of rapid coaling appears to me to have never been really studied, and even now it is in its infancy. There should be not doubt in a ship of this kind, when coaling from a vessel of the Frances Duncan class, that the average should be at least 250 tons per hour.
Rapid coaling of HM Ships being essential for the efficiency of the Service, no detail, however small, should be left untouched to ensure that the coal is shipped and stowed in the quickest possible manner.
The first maxim in coaling should be to get every single officer and man that can be spared, into the collier to dig out the coal.
It is often the custom to have various officers to assist in the traffic, but this in my opinion is quite unnecessary. The engineer officers are naturally more in touch with the bunkers and stowers, and also have in their minds more nearly the exact amount they hold; so they are by far the best men to run the traffic, with the commander supervising the keeping clear of all dumping grounds, - at each of which there should be a warrant officer. Every other officer should be employed in getting the coal out of the collier.
The second maxim, is to use every possible particle of power, combined with speed, for hoisting the coal with the smallest amount of labour, so as to increase the number of diggers in the old.
The following points will be found useful to attain your object, ie Rapid Coaling:-
1. At the commencement of a commission the greatest care should be taken in working out the stations of every individual man, and once these stations have been arranged, every endeavour should be made to keep to them throughout the commission. Before actually coaling the first time, it is advisable to go to 'stations coal ship.' By doing this it is easy to find out the mistakes in the organisation, and rectify them before your first effort. After one or two coalings it will be found that 'preparing for coaling' and 'coaling' run so smoothly that each successive evolution should be an improvement on the last.
2. Regarding a man's station for coaling, I think so far as the parts of the ship are concerned, it should be governed by his number in the watch bill, in the same manner as his boat; but with regard to front-page petty officers, marines, signalmen, and daymen, etc, they should keep the same stations throughout the commission.
3. You will find at the commencement of a commission, that there are various ratings who look upon it as a right to be excused coaling. Meet them with a stony eye, and say there is no such thing as 'having a right' when the coal has to come in.
The following is a complete list of men (maximum) who should be allowed the 'privilege' of being excused coaling.
2 Ship's Stewards - Performing ordinary duties
2 Ship's Stewards' Assts. - Performing ordinary duties
2 Ship's Corporals - On gangway
1 First Writer
1 Chief Cook
5 Ship's Cooks
2 Cook's Mates
1 Chief Sick Berth Steward
1 Second Sick Berth Steward
2 Sick Berth Attendants
1 Chief Yeoman of Signals
1 Yeoman of Signals
Officers' Stewards and Cooks
1 Sergeant Major
1 Postman
One third of the Wardroom Servants
4. You will also discover that for rapid coaling the allowance of bags, barrows, shovels, and whips, is entirely inadequate. With regard to bags, barrows, and shovels, the only way is to borrow, but with reference to whips, it is a different matter, as nobody likes to lend whips, so therefore you must make more; and care should be taken that as soon as possible after commissioning, enough wire should be drawn to allow of their being fitted at the first coaling, with four separate whips to each hold.
The establishment of these various articles in a ship of this class is:
| | |
| --- | --- |
| Shovels (square) 120 | All required by engine room, except a few on the upper deck to clear coal away at the dumping grounds. - They are quite useless in a collier. |
| Shovels (navigator) 200 | About half required for trimming. |
| Bags. 750 | . |
| Trucks. 48 | . |
Besides this, if coaling from an Admiralty collier, you have in her 400 bags and 100 shovels (navigator), but in an ordinary freight collier there is nothing. You must have a total of at least 250 shovels (navigator), 1000 bags, and 100 barrows. Can you imagine 48 barrows taking the coal away when coaling at the rate of 300 tons per hour? With eight dumping grounds, that means 6 barrows to each place, each hoist consisting of 10 to 12 bags. The barrows are therefore not sufficient to clear away one hoist.
5. In working out your scheme for coaling.
(a) First of all see how you can rig your whips in such a way that the hauling part of each of the two whips at each hold is high up, and as far apart, as possible.
NOTE:- As a general rule forward and aft, this can only be done by means of the distance apart of the blocks on the coaling stay or coaling derrick; but in amidships, the horns for securing the fore and main topmast rigging can often be used for one whip, and the main derrick aft and a coaling stay from the foremost head to the boat deck forward, for the other.
(b) In working out these positions, think of simplicity, and also what you scheme for coaling is to be.
1. Is it yard and stay?
2. Is it whip and outhaul?
These methods are governed by several things. - The disadvantages of (1) are:-
First.- You seldom have enough power engines available for working two hoists to a hold.
Second.- The speed of the engines.
The advantages are that weather does not effect the output of coal from the collier as far as your power is concerned.
The disadvantages of (2) are:-
First.- Weather.
Second.- The question of being able to get the hauling part high enough up in the ship.
Third.- The number of bollards for outhauls.
The advantages are:-
First.- You are not handicapped by the number of power engines.
Second.- Given height for hauling part, it is faster.
Third. - It is easier work.
Taking all these into consideration in a ship of this class coaling from a collier, with three or four winches forward and aft, supposing all motors are in working order; forecastle and quarterdeck, should work yard and stay, fore and main top, whip and outhaul.
(c) Never let two whips from the same hold dump in the same position. - It only creates confusion among the unhookers, and will often cause a delay of at least a minute.
(d) In arranging your dumping grounds, it often saves a jamb, if you can now and then when a 'block' appears imminent, place a hoist where it is not necessary to at once remove it. This can easily be done in the cases of the fore top and main top, but putting it on the boat deck, but it is more difficult fore the forecastle and quarterdeck; then should there be a lull, this can be cleared away.
(e) Never leave anything to chance, and that is why I say you want four whips to each hold. Duplicate everything if possible, then you can have no delay except through mechanical breakdowns.
NOTE:- A chance that is not often recognised is, that the donkey boiler of a large number of freight colliers will not supply enough steam to work all winches together. Always make certain of this before coaling, and if possible use steam from the main boiler.
6. Some say that is immaterial which side you coal from - in this I do not agree. You might just as well expect a man who has bowled over the wicket all his life, to bowl equally well round the wicket.
Decide at the commencement of the commission which side you are going to coal, and stick to it. Your men then get used to their stations and know distinctly what to expect, and the barrow men understand exactly what turnings to take.
7. A clear upper deck means a lot. Some object to moving heavy weights, such as 9.2" loaders, 6 ½" wires, etc, out of the way; but after one or two preparations for coaling, these are moved in the ordinary course of events, and take very little time.
8. Always arrange to have the same winch-men every time you coal if using ship's labour for this purpose; and be very careful that they thoroughly understand the winches of the collier before commencing to coal.
9. Habitually fill from the sides of the hold, leaving a mound in the centre for empties. Good organisation in filling, means a large saving in labour, and bags must be so placed as to save time in stropping, and should never have to be dragged about the hold because strops are found to be too short.
NOTE:- Strops should be long enough to take a minimum of fifteen bags.
10. The organisation of a hold should be such, that the hoists should be ready at the same instant as the whip. The greatest care should be taken that nobody is ever kept waiting for a whip. - The moment waits occur in the hold, it is all 'UP' for a good coaling; once a man has a chance of sitting down, he can never put the same energy into his work again.
11. Always have your stations made out so that the moment a collier comes alongside, and while her derricks are being topped, the party of coal bag fillers go at once into the hold and fill bags. Never have more than ten full hoists to each hold, for more than that is worse than useless, as the full bags get in the way of the fillers, and when the 'commence' is sounded, every one is standing easy.
12. Be sure and give the men a good breakfast before starting, otherwise you can never get the same work out of them.
13. Every officer should personally test each of his whips; he must be always watching them, and be instantly ready to make a quick change when signs of wear and tear are apparent. Never wait for the break, but shift before it can occur.
14. Never try to work your first few hoists too quickly. See every detail correct, everything working smoothly, and then go full speed. Most breakdowns occur in the first half hour, and then demoralization is the natural results:-
And with this last injunction Commander Baird concludes his observations. Perchance before these lines are in print, some haughty rival will have smashed the proud vaunt of the Channel Fleet flagship - but so be it; the result remains the same. - It's all up to the 'Ship and the State,' and does the best of good to the Navy. Therefore, let's 'live and let live' and the 'devil take the hindmost.'
It's a curious feature about the 'coaling ship' in the Navy. For instance, such and such a vessel may go blundering on making bad records time after time, till are all 'tired', and the commander's heart is indeed sore within him. Then suddenly one fine day, through some unexplained circumstances, the coal has apparently managed to come in at a better average. Immediately up go the tails of the men, and for the remainder of the commission - be the collier suitable or otherwise - the ship will never look behind her, and always play up to conditions fair or foul.
Again I wonder! - Do officers and men in a bad coaling unenterprizing ship, ever realize the fact that making continuous heavy weather over this unavoidable and important evolution of coaling, may one day spell for them the fateful words 'too late'; at a time when the smoke of the enemies' burning vessels will be all that speaks to them of the great general action which they were destined never to see.- To share in which, as a birthright, they have long toiled and slaved in the past; and now in the bitter present, would gladly give their disappointed lives not to have missed.
---
Last Updated: 22 March, 2000.

Return to WWI The Maritime War

Return to WWI Archive main page.