Vanguard's Casualties + Survivors
Indefatigable Vanguard enthusiast Jonathan Saunders has provided this database of those men lost when the battleship sank in 1917. He has combed through the 1917 Imperial Wargraves Commission registers for Chatham and Portsmouth, as well as the current Commonwealth Wargraves Commission database to extract the data. Please contact Jon if you find any errors, or have any further information on the ship and her crew.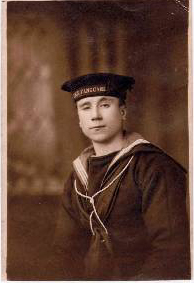 Ordinary Seaman John Richard Parsons J/39669, who was 18 when Vanguard was lost
(courtesy of his neice Wendy Noakes, nee Parsons (aoxs01@dsl.pipex.com))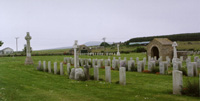 More graves
(both photos courtesy of Brian Budge - click to enlarge)
Jon's own impressions are of interest:
I found a father and son. I think the surname was Cockerill. The son was 20 and had an earlier enlistment no. than his father. He was a Stoker 1st Class whilst his father, 40, had obviously joined later and was a Stoker 2nd Class. Possibly this seniority phenomenon wasn't so unusual during WW1, with volunteers, conscription, increased age for service etc, but I was shocked they had such close relatives serving on board the same ship but then again, this wouldn't have been any different to serving in the same line regiment.
The boredom of entering the names is offset by patterns, such as most of the widows had not remarried by time of the register's publication in 1924 - a scarcity of men post WW1? Next of kin for most of the seamen under 30 was their parents so people did not marry until quite late in age at the turn of the century, if at all.
A lot of the casualties came from Medway (nr Chatham) where I live, and the addresses given for their kin are familiar roads and streets to me, which is eerie. And so many of the casualties were very young - the youngest I have found was 16 but also many 18 and 19 year olds. There were quite a few men that died who were from the north-east. I thought most of these men would have been the ones on leave as they were obviously close to home. According to my Great Aunt, Oscar Cox had managed to swap his own leave entitlement so he could get home when she was born 2 months later, otherwise he would have been home in Chatham. A tough thought for her to live with for so many years.
The casualty lists are available in web-readable format here:

or may be downloaded in one of several common spreadsheet formats below (depending upon your browser, a "right click" will invoke the download function):

Corel Quattro:
Microsoft Excel:

Jon Saunders has provided a few obituaries of Vanguard's losses.

Jeanet Stephan has also provided a copy of the telegram sent by the Admiralty to the Next of Kin. Click here to see it, and a letter home, which mentions Jutland and the death of Lord Kitchener is reproduced here.


Telegraphist J/35183 Henry ("Harry") James Maddock, courtesy of his Great-niece Jeanet Stephan


Private Henry Metcalf, RMLI, courtesy of his Grand-nephew Paul Austin


Chief Yeoman of Signals Oscar Cox


RN Able Seaman J/24544 CHAPMAN George William, 14 September 1897 - 9 July 1917
(courtesy of Marion Brown, his neice)
Lady Pamela McKenna, who launched the ship, sent letters and photographs to the Next of Kin (also courtesy of Jeanet Stephan):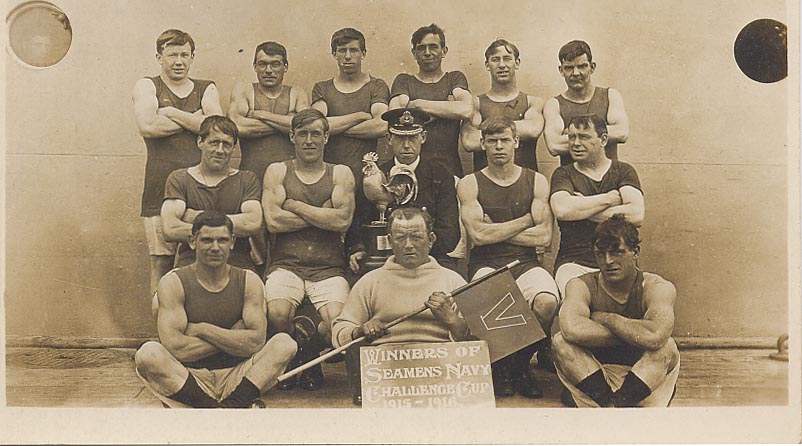 ---
William Clent's Marriage Banns
Once again, Jonathan Saunders has provided a fascinating window into life onboard Vanguard: in this case, the sad story of William Clent and his intent to marry - click here to read about it.
---
Two of Vanguard's officers have some biographical information: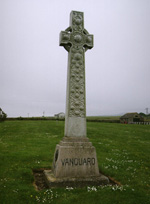 Vanguard's Memorial, at Lyness
(photo courtesy of Brian Budge - click to enlarge)
---
Vanguard Survivors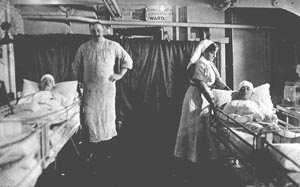 The Two Vanguard's Survivors
(photo courtesy of the Orkney Library Photo Archive - click to enlarge)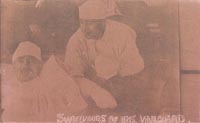 Private Williams RMLI (left), Stoker Cox (right) -- courtesy George Malcolmson
Jon Saunders has transcribed the following list of survivors from The Times of Saturday, 14 July 1917:
Saved
RN
Stoker 1st Class
K.3300
COX
F.W.
RMLI
Private
Ch./17710
WILLIAMS
J
Not on Board
The following are surviving officers of HMS Vanguard
RN
Commander
CUSTANCE
W.N.
RN
Engineer Lieutenant
VINCENT
E.H.
RNR
Lieutenant
POPE
W.L.
RMA
Lieutenant
BLUNT
C.H.A.
RN
Mate (Engineering)
BATTEN
W.H.
RN
Mate (Engineering)
SOWTER
E.E.
RN
Chief Carpenter
VERNON
F.T.
RN
Chief Boatswain
WILKINSON
J.
RN
Gunner
HOLBROOK
E.
RN
Boatswain
BRAY
G.H.
RM
Gunner
YOUNG
W.A.
RN
Artificer Engineer
SLADDEN
H.
RN
Warrant Electrician
COLLINS
W.J.
RN
Acting Sub-Lieutenant
SHARMAN
L.C.
RN
Acting Sub-Lieutenant
CARPMAEL
C.F.
RN
Acting Sub-Lieutenant
ROSENTHAL
C.B.
RN
Acting Sub-Lieutenant
STEVENS
E.B.K.
RN
Midshipman
HEAD
J.S.
RN
Midshipman
KNIGHT
G.V.
RN
Midshipman
RUCK-KEANE
P.
RN
Midshipman
CAMPBELL
G.T.
RN
Midshipman
PETER
R.H.S.
RN
Midshipman
NICHOLS
R.F.
RN
CLK??
SUTTON
W.J.
The following are surviving petty-officers, non-commissioned officers and men of HMS Vanguard
Ratings belonged to the Chatham Port Division except where otherwise stated.
Stoker Petty Officer
309603
ADAMS
P.E.
Stoker 1st Class
K.21357
BEVERLEY
W.
Leading Seaman
J.4073
BICKMORE
A.W.
Stoker 1st Class
SS.112860
BINGHAM
H.S.
Able Seaman
211356
BOURNER
W.J.
Cook's Mate
M.14217
BURTON
F.J.
Plumber
2911564
CARTER
H.S.
Stoker 1st Class
K.21353
CHARLTON
A.
RMLI
Private
Ch./528 (S)
COUSINS
E.
Ordinary Telegraphist
J.35251 (Dev)
DAVIS
R.G.
Stoker 1st Class
K.15964
DEAL
J.
Stoker 1st Class
K.33593
DIVER
F.I.
Stoker Petty Officer
310573
EMPSON
F.W.
Able Seaman
J.22482
FOWLE
R.H.
Chief Stoker
175404
FRANKS
L.
Engine Room Artificer 2nd Class
M.1287
GARLAND
J.
Stoker 1st Class
SS.115050
GAYTON
A.O.
Chief Stoker
284060
GENTRY
A.
Petty Officer
221286
GOODWIN
F.
Ordinary Seaman
J.32866 (Po)
GOUFFINI
A.J.
Stoker 1st Class
K.21031
GREEN
J.
RMLI
Private
Ch./17195
GREENWOOD
C.S.
Stoker 1st Class
K.32250
HALL
P.J.
Chief Electrical Artificer 2nd Class
347649
HAWKINS
E.L.
Shipwright 1st Class
340282
HAWKINS
G.
Armourer's Crew
M.19661
HENDERSON
W.W.
Stoker Petty Officer
307561
HEWSON
A.E.
Acting Engine Room Artificer 4th Class
M.3776
HIGGS
F.R.
Ordinary Seaman
J.64523
HITCHCOCK
M.
Blacksmith
346205
HORN
H.M.
Ordinary Seaman
J.35195
HORTON
J.
Petty Officer
184836
JENNER
W.E.
Chief Petty Officer
160879
JOHNSON
W.R.
Stoker 1st Class
K.21122
JOHNSTON
F.C.
Able Seaman
210093
KEELING
G.
RMLI
Private
Po./11859
KEMPSHALL
J.W.
RMLI
Private
Po./15367
KILPATRICK
J.
Electrical Artificer 1st Class
345057
KING
T.
Able Seaman
J.13335
KITCHEN
J.
Ordinary Seaman
J.24613
KNAPPETT
C.G.
Able Seaman
J.12893
LACEY
R.
Leading Signalman
239674
LADD
W.A.
Cook's Mate
M.20142
LAVENDER
J.H.
Able Seaman
193836
McKELLAR
J.
Shipwright 1st Class
M.6733 (Dev)
MACEY
C.C.
Leading Seaman
J.14040
MARSH
C.H.
Engine Room Artificer 2nd Class
M.1666
MONROE
J.
Engine Room Artificer 5th Class
M.4796
PARIS
S.W.
Stoker 1st Class
K.19851
PETTIT
W.J.
RMA
Lance-Sergeant
RMA/10902
PLUMB
N.T.
Stoker Petty Officer
291868
POWELL
G.H.
Ordinary Signalman
J.30849
READ
S.G.
Ordinary Seaman
J.40287
RICHARDSON
R.J.
Able Seaman
J.8693
ROMANEL
C.P.
Chief Armourer
342127
ROUNTHWAITE
H.K.
Able Seaman
J.5167
SMITH
C.E.
Able Seaman
J.7787
STANDEN
W.H.
RMLI
Colour-Sergeant
Ch./5657
STILL
W.
RNR
Petty Officer
7186
STOKES
P.
Petty Officer
214286
STREET
J.T.
RMLI
Private
Ch./17726
SWANBOROUGH
T.
Ordinary Seaman
SS.7755 (Po)
TOMLINSON
J.H.
Able Seaman
J.22752
USHER
S.H.
RNR
Stoker
2986
WALKER
A.
Stoker 1st Class
K.9160
WALLIS
A.
Mechanician
282791
WALTER
E.F.
Stoker 1st Class
SS.112676
WEDD
A.G.
Able Seaman
J.35190
WILSON
A.N.
Able Seaman
J.17791
WILSON
W.
Able Seaman
J.2076
WOODHEAD
W.
Stoker 1st Class
K.31160
WRIGHT
W.C.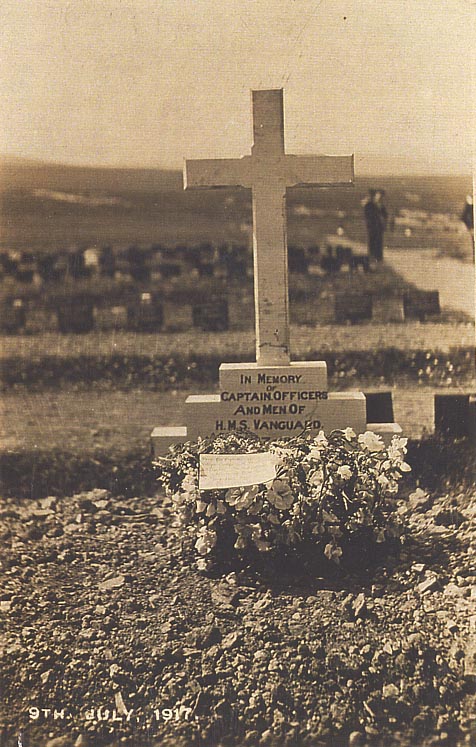 A period memorial to the casualties in HMS Vanguard, from Jeanet Stephan.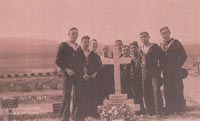 "
the same memorial with the men of HMS Diligence paying their respects
(click for enlargement)

(courtesy Jon Saunders)
---
Last Updated: 5 June, 2007.

Return to WWI The Maritime War

Return to WWI Archive main page.